We've been producing plastic products for a wide range of applications for almost 40 years. The featured cutting board set is just one of the hundreds of products that are sourced by international companies such as Wal-Mart, Target and Tchibo. They appreciate the fact that our R&D technicians use their 15 to 20 years of experience to add 20 new items quarterly to our catalogue, which currently includes over 1000 items.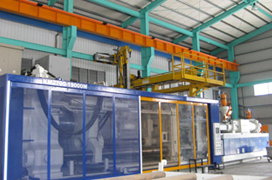 | | |
| --- | --- |
| Using in-house injection molding equipment, our R&D technicians can complete OEM/ODM designs quickly and efficiently. They have designed medical, hardware and transportation products, and they're ready for your requests, too. And the fact that our cutting boards and other products are made from recycled plastics will attract your environmentally concerned customers – and improve your bottom line. | |
At our ISO9001:2008 certified Taiwan facilities, over 100 factory staff produce 1000 tons of products monthly. Large-volume orders are not a problem. And by incorporating materials from Dow and checking products at every production stage, we achieve product acceptance rates up to 7 percent higher than the industry average. But don't take our word for it – test market a shipment. We accept small, mixed orders of just 1000 units. Let our wide range of products work for you. Visit us online today.